Teaming Up for Skull Base Surgeries
An interdisciplinary OHSU team is laying down a track record of success with the most challenging anterior skull base lesions, which affect the region at the base of the brain just behind and above the nose and eye sockets. Neurosurgeon Olabisi Sanusi, M.D., an assistant professor of neurological surgery, works with otolaryngologist Mathew Geltzeiler, M.D., to treat patients from across the Pacific Northwest with benign or malignant tumors in the brain pituitary gland or sinuses.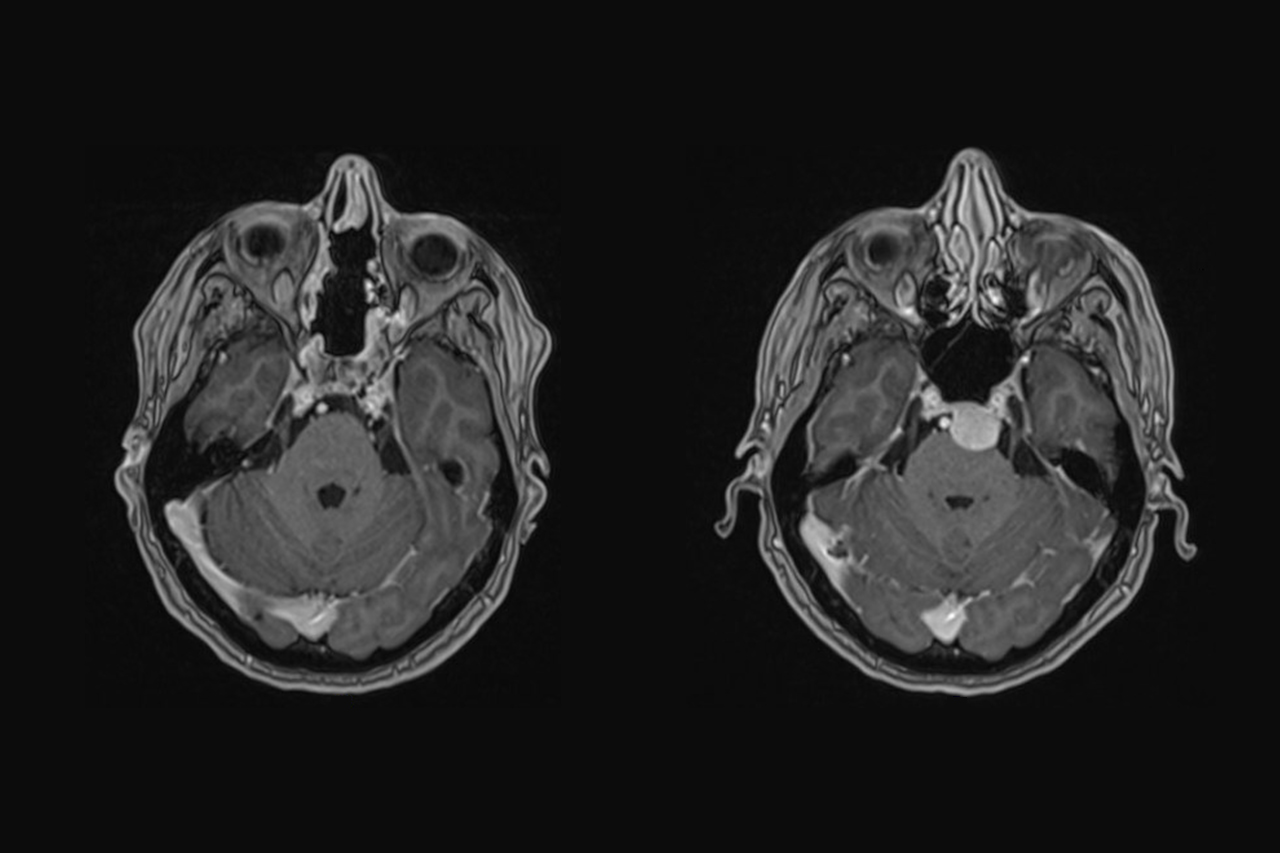 As part of OHSU's team approach to complex anterior skull base surgeries, neurosurgeon
Olabisi Sanusi, M.D.
, and otolaryngologist
Mathew Geltzeiler, M.D.
, worked together to remove a large petroclival meningioma — a tumor deep in the center of the skull base — through a patient's nose. Left: a post-operative scan; right, a pre-operative scan.
Their task is riddled with risks. Whether cancerous or benign, tumors near the eyes and nasal sinuses can sit near the optic nerve, the carotid artery, the hypothalamus, or the brain stem. That's why anterior skull base surgeries that go wrong can have devastating consequences, including blindness or stroke.

With MRI and CT angiography images, Sanusi can see the bone, soft tissue, and blood vessels in the head and neck to identify a tumor's precise location and size. That information helps her plan each surgery. Then Geltzeiler — an expert in tumors of the nose, sinuses and skull base — works with her to get her where they need to go.


"Should we come in through the nose, or make an incision in the face or at the top of the head?" Sanusi says. "Dr. Geltzeiler and I discuss what's reasonable and achievable. It's a great partnership."
Along with Stanford University, the University of Pittsburgh, and New York University, OHSU is one of a handful of academic medical centers in the U.S. that bring together experts in neurosurgery and otolaryngology to conduct anterior skull base surgeries of this complexity and scope. OHSU is also a
Pituitary Center of Excellence
, a designation the Pituitary Network Association gives to medical centers with comprehensive, state-of-the-art clinical care, education, and research for pituitary disorders. Together, Sanusi and Geltzeiler are a North American Skull Base Society (NASBS) Multidisciplinary Team of Distinction.
At OHSU, Sanusi and Geltzeiler conduct the most challenging skull base surgeries on adults, while neurosurgeon
Kelly L. Collins, M.D.
, and Geltzeiler do similar operations in children and adolescents. In the two years the teams have worked together, patients have had excellent outcomes such as improved vision, reduced headache and chemical remission of hormone-secreting pituitary tumors. Whether tumors are cancerous or benign, Sanusi says, patients' anxiety levels drop dramatically after surgery.
"The ability to make a big impact for people is very rewarding," she says.
Sanusi and Geltzeiler are getting noticed, delivering lectures on their teamwork and providing surgical trainings across the country. Sanusi credits the entire team, including ICU nurses, anesthesiologists, endocrinologists, and other staff who work with patients before and after surgery.
"The secret sauce is that we all work well together," she says. "We're all here to help our patients and do right by them."

"The ability to make a big impact for people is very rewarding."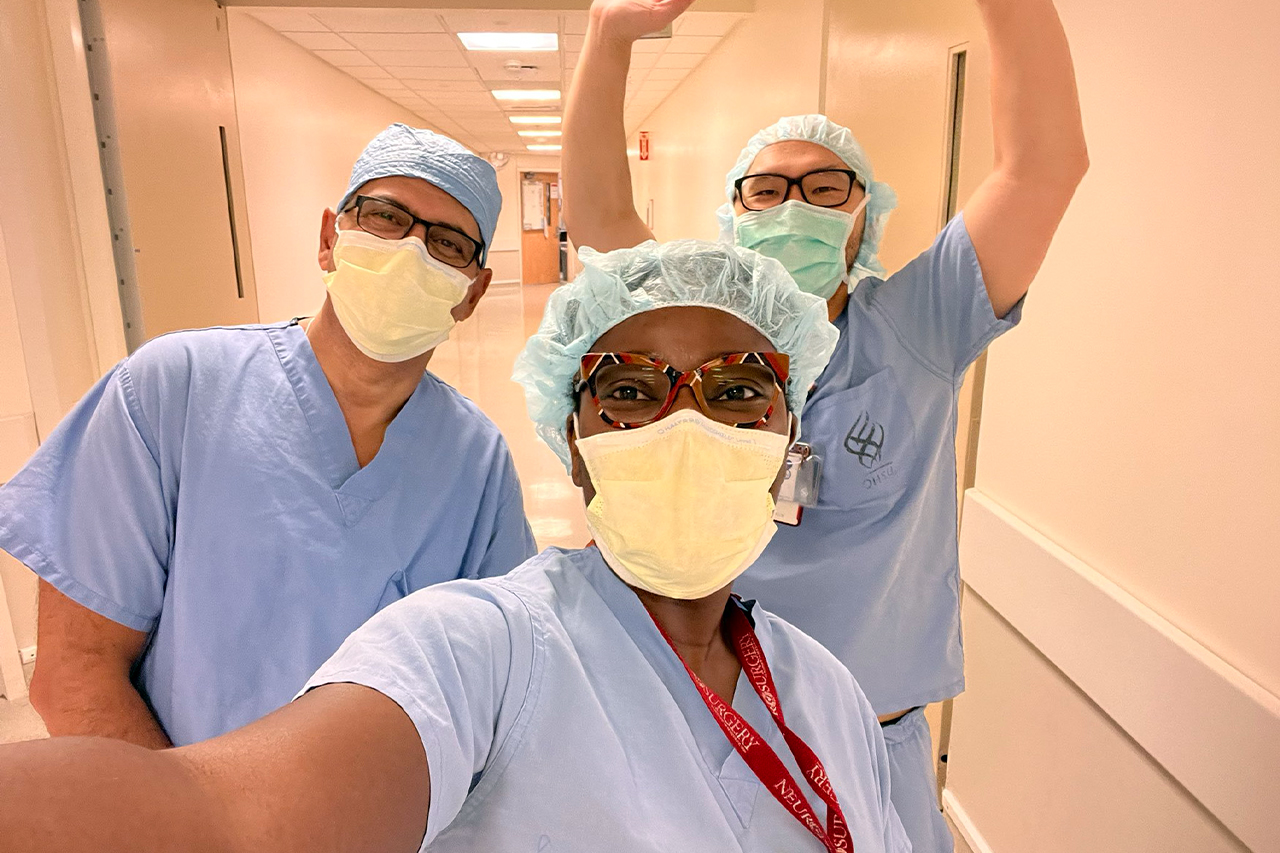 The OHSU skull base program is also recognized as a leading driver of education. In 2022, the program's
skull base and vascular neurosurgery fellowship
was one of the first five fellowships in the United States recognized by the prestigious Society of Neurological Surgeons' Committee on Accreditation of Subspecialty Training.
"We want patients 10 years from now to also get outstanding care," said
Aclan Dogan, M.D.
, chief of the division of skull base and vascular neurosurgery. "The next generation needs to see the best surgery being done and that is right here at OHSU with teams like Drs. Sanusi and Geltzeiler."

Give Now
Your generosity supports vital and life-saving programs across OHSU, from groundbreaking cancer research to pediatric care to education.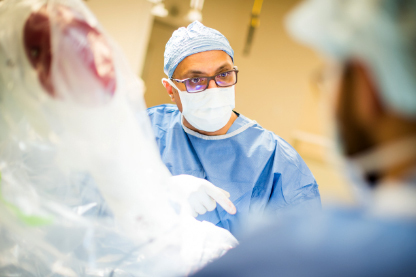 EPILEPSY
At the Forefront of Epilepsy Treatment
Neuroscience physicians and surgeons are helping develop technology and treatments that promise more options and better quality of life for people with epilepsy.